PURCHASE ALL 6 MONTHS OF LIVE WORKSHOPS
January - Cowboy Seth (on Sanded Paper)
February - Donovan (on Pastelmat)
March - Roxie (Crescent illustration Board)
April - Ben

(on Pastelmat)

May - Ryan

(on Pastelmat)

June - Evan

(on Wine colored Pastelmat)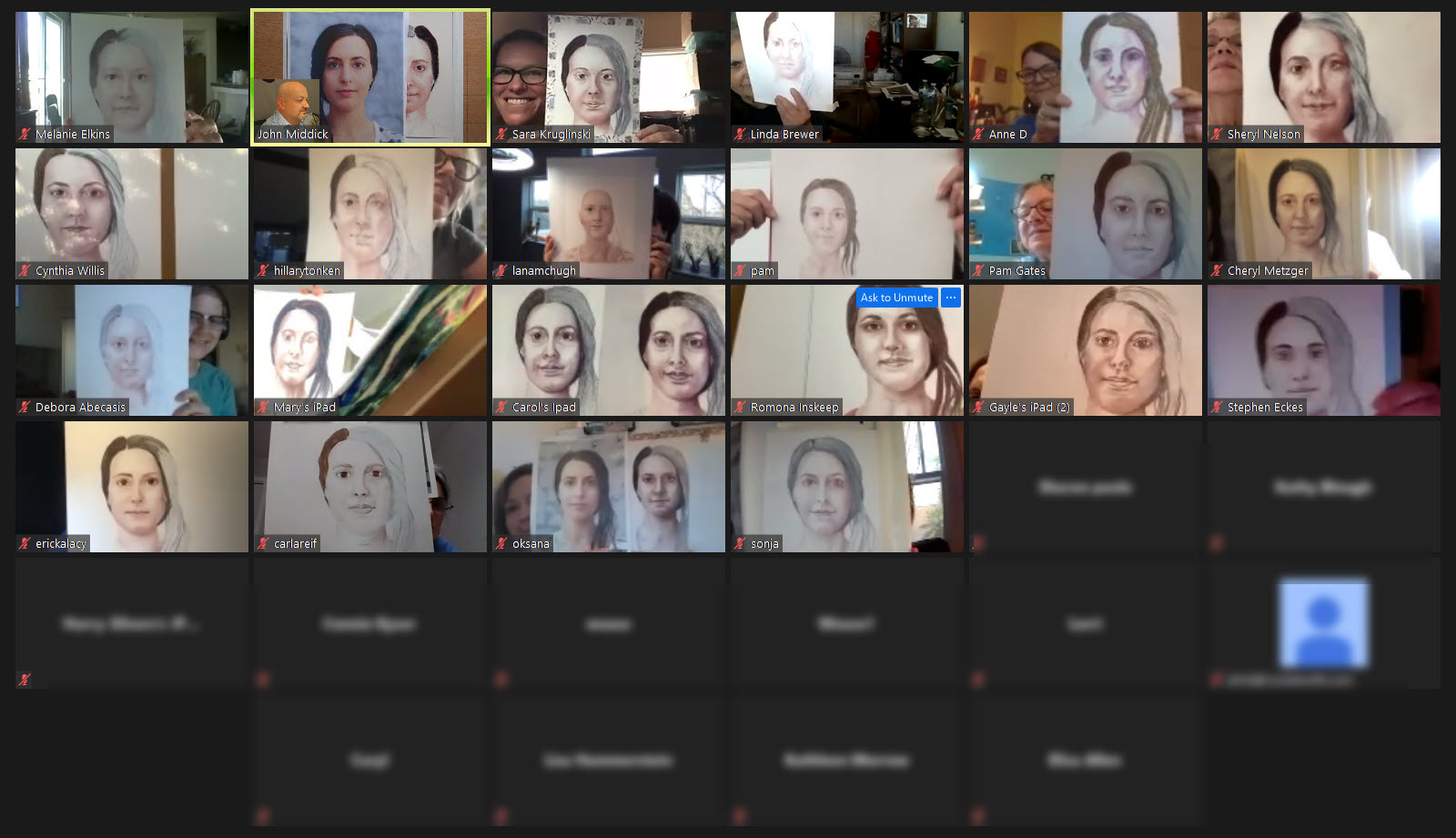 Join the fun inside our Live Workshops!
All the 2022 Workshops were filmed live with student interaction on
Friday and Saturday's of each month in 2022., 11:00 to 4:00 Eastern Time.
The recordings were made available the very same day!
PURCHASE THE BUNDLE AND YOU'LL ALSO GET THE FOLLOWING:
Bonus 1
:
Get the
booster workshops FREE
(offered the following Monday after each workshop). (
$84 value
)
Bonus 2
:
A
storewide coupon
of
15% off
any course or class inside the Sharpened Artist Academy (to be used within a year)!
Bonus 3
:
A
FREE Art Mentoring session -
This is a 1-on-1 coaching/mentoring call where we discuss challenges and give specific actionable advice for your particular skill level.
(
$150 value)!
Frequently Asked Questions
What if I can't attend one of the workshops in the bundle? 
No worries at all! They're all recorded and you get lifetime access to the recordings.
Can I just purchase 1 workshop instead of the entire bundle? 
Each workshop will be available at a discounted price of just $67 until 2 weeks prior to the workshop dates (then the price goes up to $157).
Will this price be offered again?
No. This is the lowest price that will be available.
If you're part of Members Circle, then you'll have special offers on individual workshops from time to time.
By enrolling early in this bundle you are guaranteeing you're seat in the workshop and you don't have to worry about a waitlist.
Can I get a refund if I'm unhappy with my purchase?
Of course. If you are unsatisfied with your bundle, reach out to discuss refund options for unused workshops.
My bundle includes a bonus Art Mentoring package. How do I schedule my appointment?
Upon purchasing you'll receive further instructions through email on how to book a time for your appointment.
What Students Are Saying
"I knew after taking my first workshop with John, that he is a gifted teacher. He knows his craft, but more importantly, he can explain the how and why of the techniques he is using. Additionally, his sense of humor, complimentary nature, and gentle suggestions for how to correct the aspects of our art we want to improve make for a fun, informative, and comfortable environment. By nature I am a shy person, but John's encouraging nature and open class forum has helped me to feel confident in my efforts. I have grown both artistically and personally. I know there are endless YouTube art videos available, but nothing can take the place of a gifted teacher who loves what he does and truly cares about his students. The technology John employs allows you to feel that you are working one-on-one and allows for really effective, personalized feedback. The videotaped lectures also allow students the freedom to rewind the teacher as many times as necessary to fully understand a point or to draw along with a demonstration."
~Kimberly M.